I guess even the big boys make mistakes… I was just checking out a product at Amazon to see what delivery to Canada would be, and at the final stage in the checkout, I had the option to view in EUR or USD.  Can anyone tell me what's wrong here?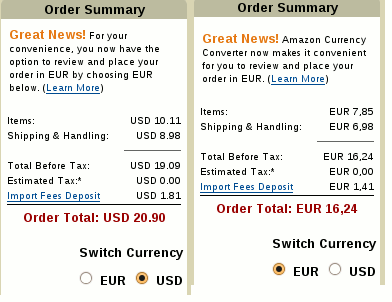 That's right! 7.85+6.98=14.83, not 16.24!  Yes – the totals at the end are similar, and it seems that the Import Fees Deposit have already been added at "Total Before Tax" (but with a terrible exchange rate!), but still… what shoddy programming!
I've tried posting this to Amazon, but it's impossible to send them an email without an order number… anybody have friends at Amazon?  Maybe they'd be interested to know about this bug… I'll do consulting if they need help!
You can follow any responses to this entry through the RSS 2.0 feed. Both comments and pings are currently closed.