Diverging from my usual technical, and ranting posts, this one is to brag about my latest woodworking creation.
As a birthday present for my girlfriend this year I made her a wooden case for her Macbook Pro.
First off – some nice pictures: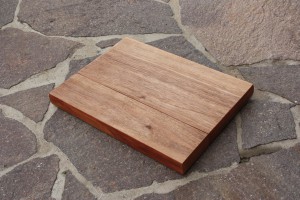 Materials
It weighs in at only 440g (0.97lb).  I managed to keep it that light by using poplar and balsa for the box, and walnut and apple wood for the veneer.
I should have used bone glue, or something similar for applying the veneer, but didn't have any, so used standard white wood-glue from the DIY store.  The warping from the glue drying is hardly visible.
Structure
The boxes are made of 3mm poplar plywood.  There is one layer on the large surfaces, and two layers sandwiched around 2.5mm of balsa wood (for more strength with less weight) on the ends.  I bevelled the ends slightly for a smoother feel.
Veneer
The large surfaces have walnut veneer, and the ends (including around the openings) are apple wood.  I finished it off with an eco-friendly natural resin wax.
Fit and usage
The inside of the case has foam along the ends so the laptop fits in snug, has a bit of impact protection, and won't rattle around.
As a bonus, the case can be used as a nice desk accessory for storing letters/papers (might need a band joining them together so that they're really stable), and the larger box section can be used as a nice lap-insulator if your laptop is roasting your knees.
I was thinking about putting some straps or clips on it, but I really liked the smooth finish with nothing to snag in your bag, or concentrate pressure if it is dropped.  I would like to finish it off with a bag made of rough brown textile (like a flour sack) in which the case could be placed vertically, with 1/3 of the case showing out the top.  I think it could look pretty neat (understatement) walking down the street with a wooden plank in a rough sack over your shoulder… 🙂
Other similar products
The idea isn't original… similar products are commercially available from Silva and blackbox, but they're much heavier, and expensive!
You can follow any responses to this entry through the RSS 2.0 feed. Both comments and pings are currently closed.