A while ago I got an inductive charger (Qi) for my phone (Nexus 4).  It's a great idea: never fiddling with that little USB plug, just grab it from the table when you go… accept for two things:
You have to be pretty precise when placing it, and interacting with the phone ("Oh – I just got a message!") while it's on the charger will often stop the charging process..
It's lying flat on your table – not much good to look at
Here's my solution: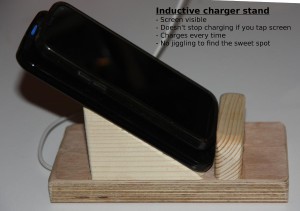 It's just three pieces of wood glued together, a hole through the base for the cable, and the inductive charger stuck to the wedge.  The block on the right keeps the phone at just the right position to charge every time you plonk it on there.
So if any of you manufacturers want to go copy this fantastic design, go ahead, and if you want to keep your karma good, just send me on a copy of the finished product and I'll be happy to review it for you! 🙂
You can follow any responses to this entry through the RSS 2.0 feed. Both comments and pings are currently closed.